| | |
| --- | --- |
| | 0 Members and 1 Guest are viewing this topic. |
| | |
| --- | --- |
| Author | Topic: The Art Thread (NSFW) (Read 52731 times) |
---
Latest.
---
---
New model is awesome. The hair is already as much fun as I'd hoped. Oil on canvas, 16x20.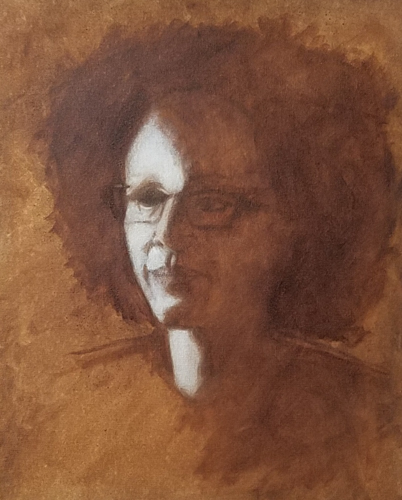 ---
---
I missed your latest post above, Sky. She looks like a fun model to draw, any updates?
I haven't been doing much seriously. Started working on my postcard for the 2019 Twitter Art Exhibit and it didn't get off to a good start. I found out my "Waterproof India Ink" wasn't. Started to bleed as soon as I began to apply watercolor over the lines (usually I go ink over watercolor).
And this was the other of my possible TAE2019 entries. Since I couldn't paint over the lines, I painted around them instead. I don't like it but it's gotten positive responses. Go figure.
And some lunchtime fun with pens and highlighters.
---
---
Maybe a fixative followed by some clear gesso? Looks cool, though! Happy accidents!
I did one more session on the portrait, but haven't been since. Model was out two weeks and then the fatigue from work kicked in hard. I should be recovered by next week, but that only leaves two or three sessions after the holiday. My plan is to take some pics with the good camera and maybe play around with charcoals or something.
I may also take next semester off, I've been taking the class since January of 2016. I'm hoping to focus on color recognition and paint mixing, since those two things get more frustrating each semester, instead of easier.
All I've been doing lately is some unserious figure drawing, since we're running sessions here now and I'm a facilitator. Hard to get any serious drawing done when I'm facilitating, since I can't get into flow at all. On the nights the other kid facilitates (about every other), I can get into flow...but then my lack of skills rears its head. So I just keep it loose and informal and I'm not worrying about producing anything good, just playing around with ideas. That's been fun, so I'm sticking with that until I get in some more study on figure (my focus next year).
That's her elbow in the first gesture (fiancee thought she had weird boobs, heh). These are 3, 5 and 10 minute. I like the 10 minute, actually (the one with values roughed in).
---
---
Something new and a bit of a new look. I was originally planning to just do the two center lines and then add ink lines over that, but I liked how it looked and expanded on that idea somewhere. Need to flatten it out once I take it off the board. The tape didn't hold as well as it should have this time around.
Revisiting the non-waterproof waterproof ink issue - it does become waterproof.... if I let it dry for long enough. Which means longer than a day at minimum. I was using that ruined section of paper to do some testing and got water on the old lines and they were fine, so it just means if I want to do color over ink again, I just need to plan it out for longer thank usual.
---
---
That's a cool technique, I like it!

I've been slowly getting back into drawing, wish I could retire tomorrow. Seems like work gets needier every year.
---
---
On a whim, I decided to make little holiday cards for the co-workers and give these along with a small stocking and some chocolates. Cards are only 3" x 4.5" so about index card size.
---
---
Anyways, just submitted this for an art show "Women's Work 2019" that's held in the town next door. I submitted something last year, too, but didn't get accepted. New entry for this year.
"The Red Ribbon of Fate"
8 x 10, watercolor and ink
---
---
Good luck, RF!
I'm starting to hit figure drawing more regularly, though I'm mostly doing some gestures during short pose then I switch to portrait for longer poses. I just lack the training to do too much more, which I hope to remedy this year. The chick who is supposed to be running it has basically ditched for no reason. This session I ran across the street to grab a coffee for the model and the girl who is supposed to be running it was there with her friends....drawing. What the fuck. I told the gallery owner, so we'll be revamping the sessions the way I want them next season (we had set it up per her schedule). I really dislike irresponsible people!
Anyway, here's a 25 minuteish drawing from this past weekend, maybe 18x18 charcoal on newsprint. It's wonky, but less wonky than what I could do in a similar time a couple years ago.
---