---
Cheers, man. You have put out some great work - having a pro eviscerate you means you're doing something right. Having them say "oh you're doing great" would be a waste of your time and money. Keep at it.

I'm digging the pseudo-cubism style on this piece. I want to see him animated and talking in that style.

I only realized today how much harder he was pushing me than just about everyone (one student was his student from the school).
It's still geometric because I didn't have time to progress the rendering very much. But it does look cool! I decided to leave it as-is, as a learning piece. Back to the portrait I was working on the week before, feeling way more comfortable with it. Drew so many heads last week!
---
---
if i'm being honest i like it more than anything else you've done

it has a relatively unique style, whereas everything else slides nicely into a sub category of each given medium

go further
---
Thanks, man. I'll keep that in mind, because there is a pretty clear path to replicate the style again.
---
---
My first non-classwork portrait.
Prince Lyf
Charcoal
18x24
---
---
That is an excellent drawing, Sky. I actually like the drawing a bit better than the painting, since it's obviously the same pose and model. I feel the mood is much better conveyed here, or maybe it's just me.
--------------------------------
I've been in a not good place with art recently. Like staring at the paper and not even wanting to try putting anything down or when I do, having it all seem to be total crap. Finally did a few small pieces the other night that don't feel like complete garbage.
---
---
I like both of those!
I hear you on motivation, that's why I don't believe in it. I almost ragequit that portrait, but I pushed through my jerk-of-a-brain's chemical dump of negativity (by drinking beer and killing zombies).
I agree the drawing is better, but that's because a) I've learned a lot since I began the painting in September and b) I'm a shitty painter

I'm on a path to maybe be good in a few years, but I have no illusions about exactly where I am on that path.
---
---
Whooo!


---
---
Well done, sir.
---
Every normal man must be tempted at times to spit on his hands, hoist the black flag, and begin to slit throats.
---
Congrats Sky!
---
"Always do what is right. It will gratify half of mankind and astound the other."

- Mark Twain
---
Thanks, everyone! I framed it, too. Had to learn how so I could cut some costs without cutting quality.
---
---
It's beautiful. Srsly.
---
My Sig Image: hath rid itself of this mortal coil.
---
Love it!
---
I should get back to nature, too. You know, like going to a shop for groceries instead of the computer. Maybe a condo in the woods that doesn't even have a health club or restaurant attached. Buy a car with only two cup holders or something. -Signe

I LIKE being bounced around by Tonkors. - Lantyssa

Babies shooting themselves in the head is the state bird of West Virginia. - schild
---
Very impressive. I'm always amazed by artistic people since I can't do it at all.

Sure you can, it's just a learned skill.
---
---
Coming in late, but that's a ribbon well-deserved. I walked through a big regional art show in Southern California six months ago, and that would have smoked 95% of what was on display there.

---
Wow, thanks! I don't think my work is particularly good yet, but I know what I'm aiming for and where it falls short. In my area there's only one teacher doing a few night classes, everything else is shoddy modern instruction. I've been in two modern drawing classes and it's painful listening to a teacher explain something as fundamental as values, because they've only been taught part of the topic as each generation has forgotten more. So simply having a bit of training in proper technique can have that kind of impact, even without access to an atelier (if I had access to one, I'd actually be pretty good by now).
I just wrapped up a short portrait class, twice a week for 4 weeks. Rather than rush through a traditional painting and end up with yet another unfinished painting, I decided to do a series of studies. One 8 x 10 study per class. For the last class I just took a break and did a quick charcoal sketch.
---
---
Meredith1 and Meredith5 are my personal favorites. With 5 the style reminds me of modern Latin American portrait style. For 1 you brought the eyes to life, combined with proper shadows on the face. Keep up the good work man.

I put a hard stop on mini painting and started slowly working myself into watercolor. This is far harder than I thought it would be and I'm currently looking for classes. Oddly, here in Seattle the cheapest option seems to be our community college. There's a handful of artists and programs that teach but I can't seem to find anything less than $400 per class block.
---
Watercolor is probably the only thing you can find approaching decent instruction. Instruction in general is horrible if you care about developing skills. Good luck!

I'd like to get back to painting minis at some point, but the drive is just too strong to work in charcoal and oils. I should probably sell off my minis, I've already sold a few of my mainstream collection (mostly Reaper stuff because I have a ton to offload).
---
---
I've heard there are some good YouTube videos out there for watercolor techniques. I obviously haven't watched any of them since I do abstracts and don't give a fuck. Or effort. Or something.
Anyways, hardest thing I struggle with when doing watercolor (when I try to paint like a normal person) is having to go light to dark. It feels and seems so counter intuitive to me, but that's how it is.
Have some mixed media stuff. Base is watercolor and lines are marker, 4.5" x 6"
---
---
Quick update, things are blowing up here. I'm going to be the facilitator for a local figure drawing group we just formed (took a year and a half to find someone willing to actually host it). Our art association got kicked out of our home since 1972 (because they cray), but a new arts complex is developing a space just for us. Both venues are flush with some grant money right now and developing spaces, so it's likely I'll have to put together a couple workshops for next year...zany. I didn't expect to start teaching for at least another 8 years!

After the nutty July, I've just been doing a few small studies here and there but finally did get something on the easel (in charcoal). Should have it done before class starts up in September.

Oh, and my portrait instructor is doing urban plein air on Saturdays, so I'll probably take my sketchbook and start my initial foray into not-portrait stuff...
---
---
Wow! That sounds exciting and not a bit scary, Sky. Good luck on the move to the new space and starting teaching.
---
---
I was also on the radio this morning

It's amazing that people are listening to my nutty ideas and they're becoming reality.
---
---
Really great!


Concur, hope it keeps up and is great for you Sky.
---
Expect poison from the standing water.
---
Thanks, folks! I've been getting a bit more professional about stuff, since time constraints were already a thing. Still being primarily a student, I have to balance my training time against these new opportunities. One nice side benefit is it kicks my butt to start hitting the basics hard, since that's likely one of my first offerings. So I'm doing stuff like value strips and shadow comps, which will be both demonstration tools and lessons for my early classes (if you can shade a sphere, you can shade a head).
I'm also using the sphere example to practice rendering in charcoal, since I'm still working up that skill from the method Esteban taught me in Toronto. That might end up being part of an intro to classical methodology class. Sucks I kind of have to fumble my way up the skill tree because I don't have live instruction, just a few minutes from May...but it was enough to unlock the basic goals, so I can develop it from there.
It's pretty damned difficult at first, smoothing out all those little light and dark imperfections of charcoal on paper. But that becomes a cool zen thing, put on some good music and just get in the flow working across a piece. The challenge now (and we didn't cover this aspect live!) is that it skews the value lower. So if I start with a charcoal wash of value 5, after the first pass of smoothing it's value 6 and after the second pass it's value 7. So it's critically important to learn how to anticipate and control that!
Sorry to get a bit rambly, that's where my headspace is right now, just trying to keep my hands on a lot of levers without losing the primary focus. I don't have any show pieces ready to go, so I'll share my most recent sketchbook study for putting up with all the rambles...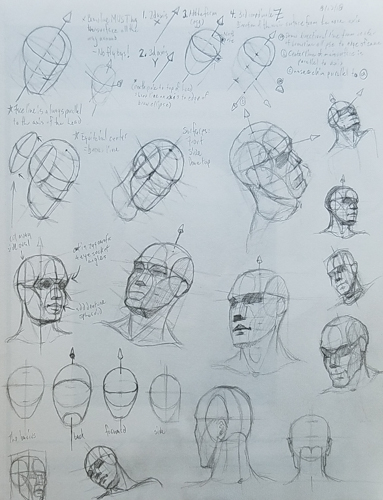 ---
---
Some nice head studies, Sky. I've been thinking of taking a life drawing class if I can find one fairly close by that I can get to (long commute messes everything up).
I started something new last night. No idea how it's going to turn out since I'm not used to working so large (paper is 11 x 15) but oh well, it'll be what it'll be. This is the start.
---
---
Finished the piece I was starting in the post above, got a good scan of it created (had to do it in sections) and submitted it to an art show yesterday. I'm pretty leased with how it turned out.
---