| | |
| --- | --- |
| | 0 Members and 1 Guest are viewing this topic. |
| | |
| --- | --- |
| Author | Topic: The Art Thread (NSFW) (Read 101334 times) |
---
They are all great, but your self-portrait is fantastic!
---
I should get back to nature, too. You know, like going to a shop for groceries instead of the computer. Maybe a condo in the woods that doesn't even have a health club or restaurant attached. Buy a car with only two cup holders or something. -Signe

I LIKE being bounced around by Tonkors. - Lantyssa

Babies shooting themselves in the head is the state bird of West Virginia. - schild
---
Agreed, that self portrait is marvelous, Sky!
I was expecting a much longer beard though. More Viking-like.

---
---
Thanks! I keep the beard more civil these days.

The selfie is a longer drawing, done relatively tightly. As well as being my gallery piece for this year, it was mostly an experiment into process. I'm drinking from a lot of wells of learning, and every now and again I like to make a concerted effort to develop one or more to a higher level. This one was based on the Academy of Realist Art approach. Lots of measuring and careful rendering build up slowly, no fingers and limited blenders. Great learning piece.
---
---
Thanks, K.
I think this week's assignment turned out decent. It's all about repetition, grinding for skill, lol. Charcoal on newsprint, 18x24
« Last Edit: May 11, 2019, 07:24:56 PM by Sky »
---
---
Another week, another portrait. This weekís model was surprisingly challenging, getting his symmetry was eluding me. It was a beautiful day and I could smell my neighborís campfire and hear them playing with the dogsÖso I cut this one short and went over to Margaritaville :D
This one feels similar to the school's style, so I'm pretty happy with it despite it being incomplete. They've got a lot of tricks I'm trying to pick up.
---
---
This week's homework:
And a 20min head lay-in from a live model:
---
---
A couple more. Repetition is the mother of skill, they say. Second one took about 3 hours, the first about 2 and a half.
Charcoal on newsprint, 18x24.
---
---
Young females are tough.
Charcoal on newsprint, 18x24 (detect a theme?)
---
---
Haven't been arting much lately, but decided to so a trading card swap that's organized by the Grumbacher Fan Page over on Facebook. It's basically doing a 2.5 x 3.5 sized piece of art, you send it to the organizer and get someone else's card in exchange. Really a fun thing. This month's theme was "bees" and I actually did something non-abstract.
Plus, doing this gave me an idea to do for TAE2020, so I can get started working on that postcard, too.
---
---
Love it! I hadn't drawn since that last post of mine, just started up a new term at Watts, taking head fundamentals to fix a few, ehm, fundamental flaws in my drawings. It's been pretty rough getting back up to speed after 4 months! The first couple weeks, skull abstraction and reilly heads. Charcoal on newsprint, 18x24, as usual.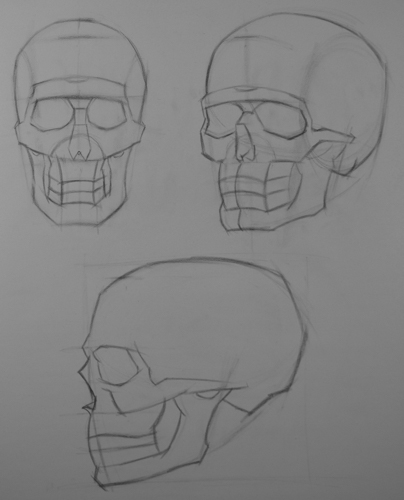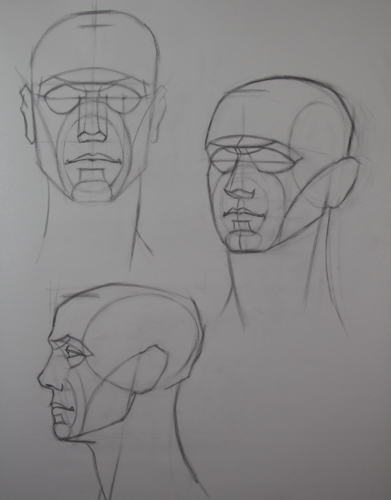 ---
---
Those look like a cool way to build a nice foundation, Sky. I want to get some newsprint so I can just do larger gesture work for playing around. I've found that spending so many years now working on small pieces, the few times I've tried to work larger are intimidating and I don't know how to use the space properly or even very well. I feel constrained when I want to go big.
---
---
I use Wolff carbon 4B or 6B (sharpened to a long point) on smooth newsprint. Lays down a nice tone, but the paper degrades quickly. Remember to draw from the shoulder when working big. I love it, tiny work is tough for me.
---
---
Finished my postcard for TAE20, now I need to trim it and throw into the mail. I'll probably wait until after the holidays to do that though. I based this off the art trade card I posted earlier, obviously. The brownish spots are actually gold paint and it's nice and shiny when seen in person.
A random abstract I did last week to try to get myself back into doing anything artistic.
And from last night - broke out the little travel kit I bought a week or so ago. Winsor and Newton Cotman half pans in a little travel case. It's the student grade paint but that's still high grade since it's W&N. Just doing the little color chart made me happy. The paint felt good going down on the paper, and the tiny blue-yellow mix I did gave me some texture from the salt I put on it, too. The other paints I've been using (Sakura Koi pan watercolors) don't give any texture when using salt and that's something I miss a lot. I think the W&N will give me that back, although I am planning to buy some Dr. Martin's Hydrus watercolors soon.
Almost forgot - how have I gone so long without having a filbert brush? The one in the pic above is new and I love how it feels to paint with it. I typically use round brushes of various sizes but this filbert is a nice change.
---
---
I am hijacking this thread (and making another thread) -

This is only going to happen in discord because I want to keep it private.

As I have developed relationships with dozens of reasonably well-known and lesser-known artists, I realized I was doing a disservice to f13 not setting up some kind of print club. Well, that disservice has come to an end. In discord later today (in the channel with a painters palette) I will be dropping a link to a survey. I will be getting - if possible, and I'm pretty sure it is - f13 exclusive print runs from artists.

Signing up basically means you're willing to pay for the damn thing though each individual piece will have its own survey. I don't really care what you do with them but my plan is to have them numbered f13-*/X where * is your prints number and X is the total print run.

Basically it came to my attention that I could be creating value for everyone and art is basically a license to do so. As such, let's do this thing.

I'm sorry its in discord. Get over it. It's so fuckin easy.

If you need a discord invite, PM me.
---
Finished my holiday cards for co-workers last night and handed them out today. Only did 6 this year (boss, co-worker/teammate, 3 co-workers I'm good friends with, and the head admin). Almost forgot to take a pic of the cards so it's not the greatest. I'm particularly pleased with the star and the happy holidays tree. I keep telling myself I'll make up a bunch of cards like that starting in July and sell them but never seem to get it done.
---
---
Can you let us know what your favorite tools are for watercolor? Paper, paints and brushes? Iím back to working in watercolor and need to invest some money into my stuff. Whatís your favorite practice paper?

I donít feel like Iím good enough to spend on cotton paper yet and am just trying out lots of new techniques.
---
Can you let us know what your favorite tools are for watercolor? Paper, paints and brushes? Iím back to working in watercolor and need to invest some money into my stuff. Whatís your favorite practice paper?

I donít feel like Iím good enough to spend on cotton paper yet and am just trying out lots of new techniques.

Sure!
Paper - I typically use
Canson
or
Strathmore
paper, basically because I can't afford single sheet Arches. Arches pads are still a bit pricey for my blood as well but if you can get them on sale, go for it! Minimum weight is 140 lbs, anything less is way too thin and will buckle badly if you do wet washes. I've never seen 300lb paper in anything but single sheets though, but if you're working larger, that's the only way to go. I tend to buy larger size pads and then cut the paper down to the size I'm working in, that's a money saver as well. For practice though, you could also use a mixed media or wet media sketchbook instead of using sheets of paper. It gives you a decent enough surface to practice brushstrokes or mixing washes but doesn't use up your paper. I also use the scraps from cutting larger pages down to practice on.
Brushes - I'm partial to Winsor & Newton brand but that's just me. It's what I started using years ago and I've stuck to it. It's worth getting a good round brush that you're comfortable with, usually a 0 or 2 size is a nice middle ground. If you're going to be doing small details, definitely get a good small brush, don't try to fake it with a larger one. I also have a bunch of basically cheap junk brushes that I use, mostly for doing washes and things like that. Having a good brush can make a difference though and if better if you start out with the better student grade items.
Paint - So this is something that can be very personal for each person. I started learning watercolors using
Dr. Martin's
liquid watercolors, so it kind of spoiled me for other types of paints. When I started getting back into watercolor a few years ago, I just got out my old set from college and they are all still good. I think only one color (scarlet) was degraded to the point it wasn't usable. I found out that their Radiant line isn't lightfast though so the colors fade pretty easily (they're great for illustration that will be scanned though). I want to switch to their
Hydrus
line because that is lightfast but in the meantime, I just got myself a travel kit of
W&N Cotman
pan paints. I love it! The paints are so smooth and I can get salt textures again!

I also have a travel set of
Sakura Koi
watercolors and while I like them, it's not as much as I do the W&N ones. The paint goes down and is basically set. You can't work back into the color again once it's dry which I don't like and it doesn't take salt for creating texture. The Dr. Martin's and the W&N paints can be worked into over and over again. The little travel kits are a nice bargain for wanting to try some paints out without spending a lot because watercolors can last. At least they do for me. I also have some assorted sets of tube watercolors from places like Michael's and JoAnn's but they aren't anything to write home about. Good for playing maybe but I've come to see that the colors tend towards muddy, which is really obvious once you've seen how nice even the student grade of quality paints are.
Also, if you have the patience, then Blick's is a good source to purchase from. I'm lucky enough to have one within driving distance so I can just go there to get what I want, but they have great prices on items in general. I don't really have anything else "fancy" for my painting. I use a smaller old pickle jar for my main rinsing cut and a small jelly jar for my dipping cup (the water stays cleaner). Remember to rinse your brushes well, wash them regularly and never, NEVER ever store them bristles up unless they are COMPLETELY dry. Otherwise the water oozes down into the ferrule and can damage the handle and loosen the bristles from the handle. I had that happen with one of my favorite round brushes (because I was stupid) and ended up slipping slices of paper in there to hold it together. It's best to just store your brushes flat or hanging bristles down.
Hope all this helps!
ETA : forgot to mention - I generally tape my paper down to something stiff. I use basic painter's tape and tape the paper down when it's dry. The paper will still buckle if you're doing a large wet wash but the tape holds it down and the paper dries back flat again. I use an assortment of stuff to tape the paper to as well - a square piece of plastic, several old plastic mouse pads (like those Dell ones that would come with desktops), a plastic clipboard... but I work small though. I do have a larger piece of masonite? Something board that I can tape larger papers to. I do have some actual watercolor boards but don't use them any longer because they're more for stapling your paper down.
« Last Edit: December 20, 2019, 02:27:08 PM by RhyssaFireheart »
---
---
For fine detail, W&N Series 7 (I prefer sizes 0 and 1) and Rosemary&Co Series 33 (ditto sizes) sables are some of the best brushes and well worth the extra couple bucks over crappy cheap brushes that will splay and generally be more trouble than they're worth. Cheap brushes have their role, but splash out for the fine detail brushes. Take good care of them and they'll last quite a while. I painted a few years' worth of minis with just a couple brushes.

I've been a piece of shit slacker when it comes to art, no show&tell. Can't seem to get over the hump to get back into it.
---
---
I've been a piece of shit slacker when it comes to art, no show&tell. Can't seem to get over the hump to get back into it.
try painting by feel
---
Wow. My gear is pretty much exactly like yours, so Iím guessing I just need to spend money on more paper and keep practicing.

I like my Princeton brushes that I splurged on but Iíll grab a few W&N brushes to test. That little travel Cotman set is perfect, I have a few of them. One I took the pans out of and replaced with some different tube colors and let the paints try right in the wells. Then I can take two small travel kits with me when I go. Theyíre darn perfect.

Thanks for the post. I guess Iím on the right track and just need to practice.
---
I've been a piece of shit slacker when it comes to art, no show&tell. Can't seem to get over the hump to get back into it.
try painting by feel
lol
---
---
Here's my current gallery season piece. I won a small community award, the judge for the exhibit was a modernist and 2 of the 4 drawings that won were...bad. *shrug* part of the game, Not even mad because of what I was talking about previously, the mis-managed gallery did not unfuck itself.
Self Portrait
Charcoal on paper
18x24
I'm surprised that this piece took 2nd in drawing at the bigger regional competition (the one where I took Outstanding Portrait last year). Not just because it's a show packed with good work, but the judge this year was a 20th century modernist. I basically never expect to win, most judges around here are.
---
---
Your bread is tidier than I pictured in my head.

---
Your bread is tidier than I pictured in my head.


It's ever a work in progress! Last autumn it was back to Sven Forkbeard levels. I got into the habit of lining it up when I was going to an awesome barbershop in town, lots of latinos. I told him to just do whatever and he gave me that look, pointed goat and all.
---
---
Trying my hand at landscapes. Charcoal, 18x24.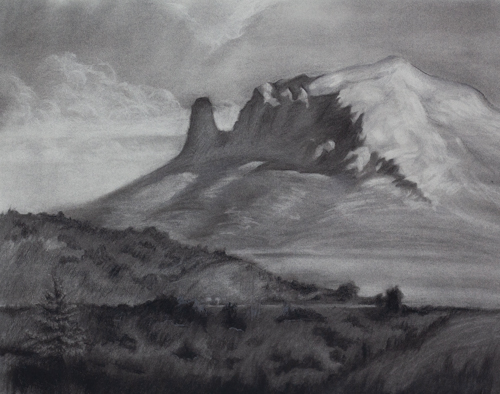 ---
---
Very nice! You have a nice range of values in the overall drawing, which is good. Could maybe use a few darkest areas to really set off the light side of the mountain, but that could just be me. I like it!
I've not been very arty lately. I'm trying though. Here's the latest. Did a few layers of watercolors over each other and it turned out not too bad, IMO.
---
---
Love the landscape and the watercolor.

My plan to do portrait work this spring has kind of gone to involuntary shit. I should be doing some street shooting of all the interesting contrasts in the city, with my mask on, but it's a bit more daunting/less fun when you think "I can't stop for a coffee and lunch along the way."