| | |
| --- | --- |
| | 0 Members and 2 Guests are viewing this topic. |
| | |
| --- | --- |
| Author | Topic: The Art Thread (NSFW) (Read 74794 times) |
---
They are all great, but your self-portrait is fantastic!
---
I should get back to nature, too. You know, like going to a shop for groceries instead of the computer. Maybe a condo in the woods that doesn't even have a health club or restaurant attached. Buy a car with only two cup holders or something. -Signe

I LIKE being bounced around by Tonkors. - Lantyssa

Babies shooting themselves in the head is the state bird of West Virginia. - schild
---
Agreed, that self portrait is marvelous, Sky!
I was expecting a much longer beard though. More Viking-like.

---
---
Thanks! I keep the beard more civil these days.

The selfie is a longer drawing, done relatively tightly. As well as being my gallery piece for this year, it was mostly an experiment into process. I'm drinking from a lot of wells of learning, and every now and again I like to make a concerted effort to develop one or more to a higher level. This one was based on the Academy of Realist Art approach. Lots of measuring and careful rendering build up slowly, no fingers and limited blenders. Great learning piece.
---
---
Thanks, K.
I think this week's assignment turned out decent. It's all about repetition, grinding for skill, lol. Charcoal on newsprint, 18x24
« Last Edit: May 11, 2019, 07:24:56 PM by Sky »
---
---
Another week, another portrait. This week's model was surprisingly challenging, getting his symmetry was eluding me. It was a beautiful day and I could smell my neighbor's campfire and hear them playing with the dogs…so I cut this one short and went over to Margaritaville :D
This one feels similar to the school's style, so I'm pretty happy with it despite it being incomplete. They've got a lot of tricks I'm trying to pick up.
---
---
This week's homework:
And a 20min head lay-in from a live model:
---
---
A couple more. Repetition is the mother of skill, they say. Second one took about 3 hours, the first about 2 and a half.
Charcoal on newsprint, 18x24.
---
---
Young females are tough.
Charcoal on newsprint, 18x24 (detect a theme?)
---
---
Haven't been arting much lately, but decided to so a trading card swap that's organized by the Grumbacher Fan Page over on Facebook. It's basically doing a 2.5 x 3.5 sized piece of art, you send it to the organizer and get someone else's card in exchange. Really a fun thing. This month's theme was "bees" and I actually did something non-abstract.
Plus, doing this gave me an idea to do for TAE2020, so I can get started working on that postcard, too.
---
---
Love it! I hadn't drawn since that last post of mine, just started up a new term at Watts, taking head fundamentals to fix a few, ehm, fundamental flaws in my drawings. It's been pretty rough getting back up to speed after 4 months! The first couple weeks, skull abstraction and reilly heads. Charcoal on newsprint, 18x24, as usual.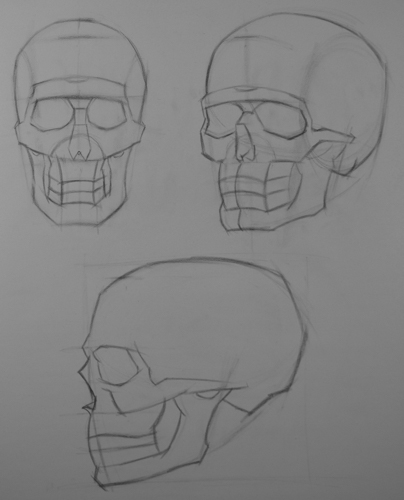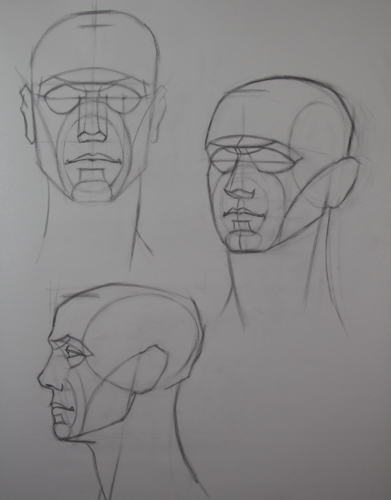 ---
---
Those look like a cool way to build a nice foundation, Sky. I want to get some newsprint so I can just do larger gesture work for playing around. I've found that spending so many years now working on small pieces, the few times I've tried to work larger are intimidating and I don't know how to use the space properly or even very well. I feel constrained when I want to go big.
---
---
I use Wolff carbon 4B or 6B (sharpened to a long point) on smooth newsprint. Lays down a nice tone, but the paper degrades quickly. Remember to draw from the shoulder when working big. I love it, tiny work is tough for me.
---