| | |
| --- | --- |
| | 0 Members and 1 Guest are viewing this topic. |
| | |
| --- | --- |
| Pages: 1 [2] | |
| | |
| --- | --- |
| Author | Topic: The GDPR and You (Read 1065 times) |
---
Shittalking aside, where does Britain fall in all this with Brexit?

Serious talk? The UK has been presented the options of:
1) Falling exactly in line with EU data laws with no say in how they are formulated or what gets included or
2) Losing all automatic data sharing and UK companies and organisations having to go through a full separate accreditation/inspections process from a European institution.
I mean it's not exactly surprising, we're no longer members of the EU and the suggestion that we should just get to keep a voice in the councils formulating these laws because it would be beneficial to the UK and it was continuing the status quo was pure 'doesn't ask doesn't get so might as well try' from the civil servants at the ICO and reality denying idiocy from the politicians who are now outraged about it. So the UK is almost certainly going to be beholden to actual foreign laws crafted by European bureaucrats without the interests of the UK considered instead of before where they just said they were.
---
"Look at my car. Do you think that was bought with the earnest love of geeks?" - HaemishM
---
Who do you work for again, Ironwood?

I'm a Cloud Architect for a Microsoft Gold Partner in the UK. It's truly exciting. Somedays I can barely help myself from contemplating the sweet release of death.
So are you technically stll even a European?

Shittalking aside, where does Britain fall in all this with Brexit?
Oddly, I'm a full Italian Citizen now also. So everything is really, really odd for me. I also can't wait to get the fuck out of here to Australia or Canada or Barsoom Mars.
In terms of Brexit, we have to obey unless we don't want to, in which case we set ourselves on fire. Again. NowhereMan kinda covered it.
---
"Mr Soft Owl has Seen Some Shit." - Sun Tzu
---
I do wonder where the line is between a phone book and unreasonable use and distribution of your personal information though. It's there somewhere, but how do you define it?

I know it when I see it.
---
Why am I homeless? Why do all you motherfuckers need homes is the real question.
They called it The Prayer, its answer was law
Mommy come back 'cause the water's all gone
---
The GDPR is fairly clear: If you give up your information to someone as part of purchasing a product or service, is that use of the information something you'd reasonably expect to be part of delivering that service/product? Has that usage been made clear to you? Can you easily find out? If it's not required for delivery of the product or service, have you been informed and given consent?

Signing up for the phone company and having your number listed publicly, pre-internet, made sense as part of your phone service since otherwise people generally weren't able to contact you. People were certainly aware that their number would be published. If you're handing over information to get a driver's licence you expect that information to be shared with other governmental bodies for purposes of checking ID or issuing fines, etc. Giving your data to a washing machine manufacturer to sell you shit is not necessary for you to drive or use your licence as ID. That's a pretty fucking clear difference.
---
"Look at my car. Do you think that was bought with the earnest love of geeks?" - HaemishM
---
LOL at this industry propaganda cartoon: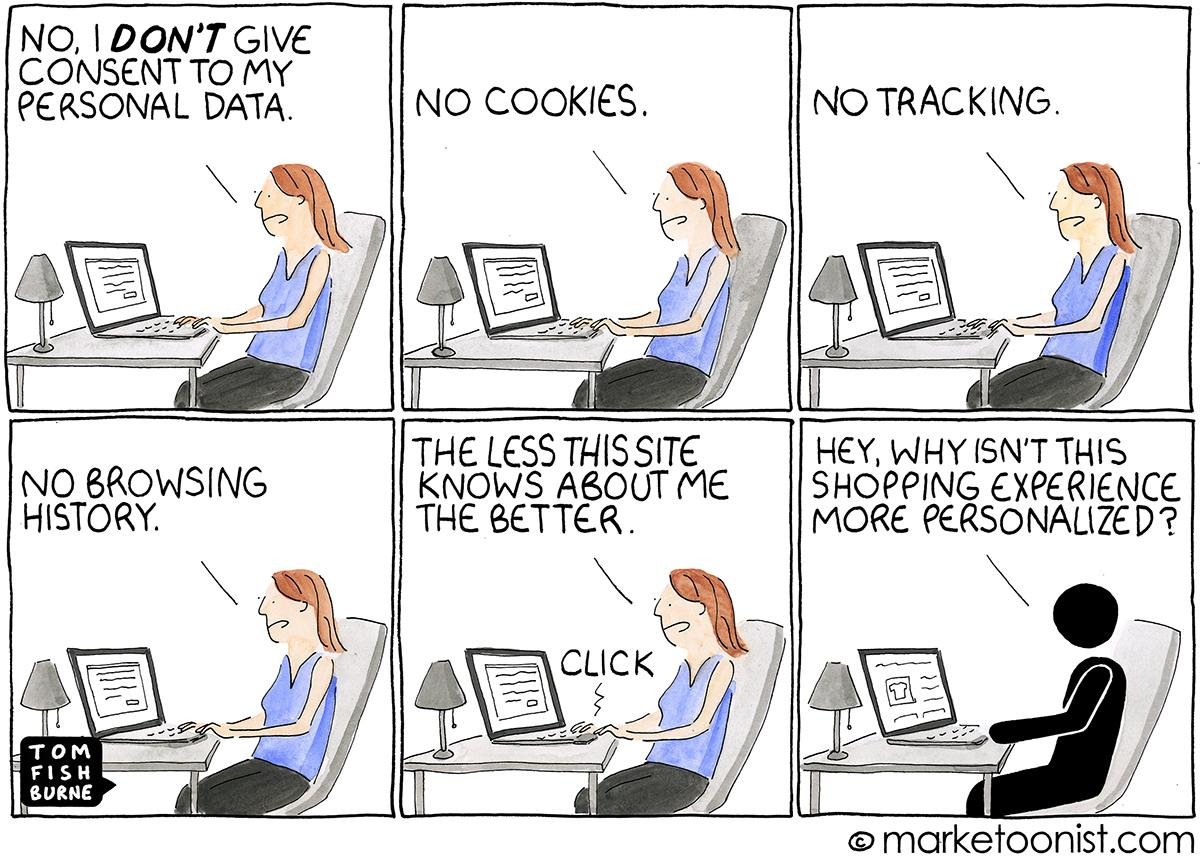 "Marketoonist is the thought bubble of Tom Fishburne, a veteran marketer and cartoonist."
---
Restoration is a perfectly valid school of magic!
---
Yeah, that's one of those 'Said No-One Ever' type deals.

---
"Mr Soft Owl has Seen Some Shit." - Sun Tzu
---
As a marketing person, I'm absolutely convinced that very very few shoppers really give a shit about a personalized shopping experience that requires giving up as much data as the marketing people want.

You should be because nobody gives a shit online about a personalized shopping experience. That's why we have the ability to search products we want instead of having a bunch of shit we don't want crowd our search engines.
---
---
"Also, we remember that one time you looked up a funny review on Amazon and now *niche product* is all we're ever going to show you."
---
I bet we're at the point where people are willing to pay for a non-personalized shopping experience.
---
---
Algorithms will never replace hand-curated experiences - and by never I mean within our lifetime.

One day it won't matter because we'll either all be dead, as a species, or it'll be a socialist utopia.
---
Humans have been the same for many thousands of years and will continue to be so, despite the trappings we dress ourselves in.
---
Why am I homeless? Why do all you motherfuckers need homes is the real question.
They called it The Prayer, its answer was law
Mommy come back 'cause the water's all gone
| | |
| --- | --- |
| Pages: 1 [2] | |