---
Thanks for the Hellgate update. I

you all.
---
My Sig Image: hath rid itself of this mortal coil.
---
Why is there no Artifact thread? Also, what's this rumor I'm hearing? NO TRADING at launch? Isn't the whole point of this game not being free and not having any free card that your assets can be traded and sold? You can answer me in the Artifact thread (!).
---
---
There's no reason to have an artifact thread yet? Anyway, yeah. No trading at launch. I don't even know how to properly express how weird that is either. It's a decision that makes no sense.
---
And yet it seems familiar.
---
"Mr Soft Owl has Seen Some Shit." - Sun Tzu
---
Digging deeper, it seems that you can sell and buy cards from the marketplace, you just can't decide who to sell them to. So you can't give your friends your unused cards and can't sell to a specific person, apparently to prevent third party bullshit, which leaves us the customers with first party bullshit.
---
---
Still better than arena.
---
"Mr Soft Owl has Seen Some Shit." - Sun Tzu
---
I have to imagine they'll break on that. Or build in a trading solution. They don't have much of a choice.
---
They are going to add in phantom draft, so that should appease the mob a bit.

Don't really care about the trading thing since it's pretty rare to be directly trading cards, and not just buying/selling. I'm sure they'll build in a trading system eventually but can understand why its not a priority for launch.
---
"My great-grandfather did not travel across four thousand miles of the Atlantic Ocean to see this nation overrun by immigrants. He did it because he killed a man back in Ireland. That's the rumor."
-Stephen Colbert
---
Also, we'll be able to recycle unwanted cards into event tickets. This is really good.
---
---
We discussed Crossout a long time ago. It's an Auto Assault (!) inspired arena game from the War Thunder people. It has a lot of those "MMORPGy" things common to World of Tanks and the likes. Also, it has a very, very cool building system. You can assemble cars, tanks, trucks, in unthinkable ways, and they look good.
But I bring it up today cause they added today a PvE co-op open region to go explore and adventure in, do quests and so on. It scales with your level. This game has issues (cheaters, unbalanced builds, silly "gas/energy" stuff) but it's a gem.


---
---
That looks ... fast. Like the mechs don't lfeel like multi-ton machines at all.

Never played it, but is that how MWO feels?
---
I would like to thank Vladimir Putin for ensuring that every member of the NPR news staff has had to say "Pussy Riot" on the air multiple times.
---
No, seems faster than MWO. Same engine though, so could be sped up for the trailer.
One thing that bugs me, as an MWO veteran, is the destructible buildings ; if you have to keep any of them intact for a contract, you're gonna be fucked.

---
"Mr Soft Owl has Seen Some Shit." - Sun Tzu
---
Might have a big impact on your strategic design making--if you have buildings to protect, you need to do whatever you can to engage elsewhere no matter what, even if at a disavantage. But in any conflict where that's the priority, you have to be able to constrain where the enemy deploys or it's pointless. If I'm meant to protect an asset but the enemy can drop right next to the asset, I'm auto-screwed in real life or a game.

---
That looks ... fast. Like the mechs don't lfeel like multi-ton machines at all.

Never played it, but is that how MWO feels?

There's a fair amount of gameplay videos on youtube, but my favorite MWO vid is this video advertising one of their Hero Premium Mechs, The "Misery" Stalker Assault Mech.
https://www.youtube.com/watch?v=vVnkBs9WQMM
---
Sometimes irony is pretty ironic.
---
After FC5, I'm ready. That game was badass. Though I'm biased due to my experience with that one redneck soldier girl who I kept in my truck's turret because her running commentary was fucking amazing.

I mean, just thinking about it I kinda want to fire it up again just to hear her yell while she shoots... well, everything.
---
---
Jings, that's some quality nostalgia there....

---
"Mr Soft Owl has Seen Some Shit." - Sun Tzu
---
My first game against that turbofog shite in Arena.

That's just no fun.

---
"Mr Soft Owl has Seen Some Shit." - Sun Tzu
---
See, here's the thing about Psychic Corrosion and Patient rebuilding (the deck you probably fought) :

It's beatable and can be fun and is not bullshit. One guy milled 40 cards out of me at 1 life to win in a scrape that must have been exciting for both of us. I doffed my cap to the motherfucker, even as I swore to the heavens.

However, having a card that says 'Take another turn' that you can replay and replay, stopping the other player from even playing a turn ?

THAT'S SOME FUCKING BULLSHIT.

So, you know, I was a little annoyed.
---
"Mr Soft Owl has Seen Some Shit." - Sun Tzu
---
Hey guys

Welcome to magic

Nice to see haemish still hates mill like his dad beat him with a sack of millstones
---
Yeah, Arena is good like that.

Also, not spending is really good after Hex.
---
"Mr Soft Owl has Seen Some Shit." - Sun Tzu
---
Yeah, Arena is good like that.

Also, not spending is really good after Hex.

I thought most of us only spent money on Hex the once?
---
---
Mtg arena code: GAMEAWARDS
25 cards
---
whatever the gameawards are
they happened
supergiant launched some diablo horseshit on epic's platform, it doesn't seem to have loot but it's definitely trying to be diablo
farcry new dawn is ubisoft trying to make a fallout game do they have what it takes does anyone care
AND THEN THERE'S THIS RIGHT HYEA
https://www.youtube.com/watch?v=MGLTgt0EEqc
i'm moist
---
Interesting.

---
"Mr Soft Owl has Seen Some Shit." - Sun Tzu
---
Wait. Wait.

So...that's like Fallout: Space! meets Borderlands meets Firefly?

Or what?

When did Obsidian become Bethesda and Bethesda become Obsidian.

Do want.
---
"...maybe if you cleaned the piss out of the sunny d bottles under your desks and returned em, you could upgrade you vid cards, fucken lusers.." - Grunk
---
I hope it's more Fallout than Borderlands but I'm excited especially since it's supposed to be out in 2019 instead of some undetermined future.
---
A furry, who happens to be one of the most talented fighting games player ever, is eSport player of the year. I am happy about it.
https://youtu.be/pyR-8Fcbf48
---
---
Fallout: New Vegas in spaaaaace (the description on Steam also lists companions and factions)

https://store.steampowered.com/app/578650/The_Outer_Worlds/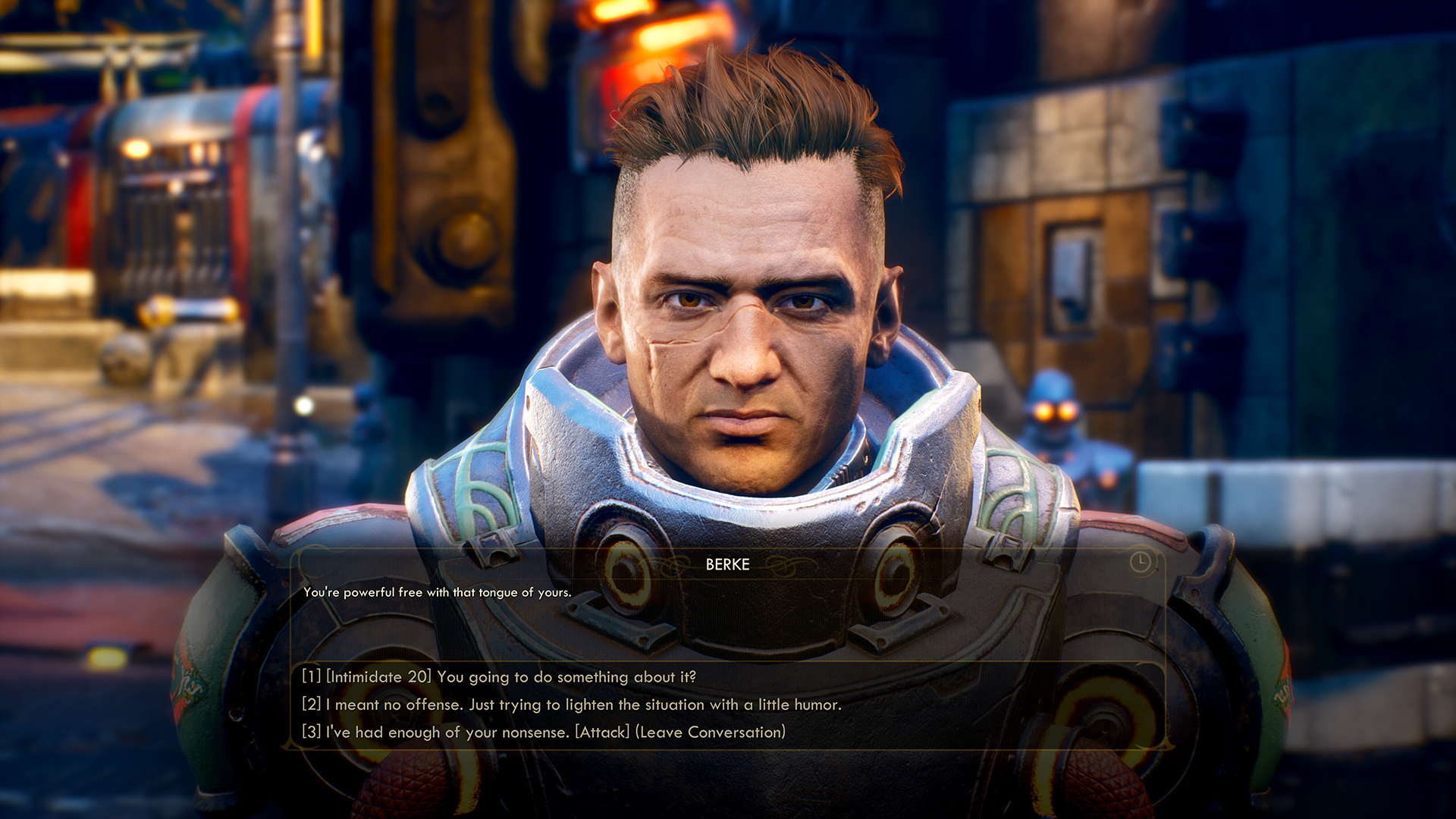 Disclaimer text at the end of the video:
Spacer's choice is not responsible for any feeling of vertigo, wonder, or hunger you may have experienced while watching this advertisement. Spacer's Choice is a wholly owned subsidiary of Universal Defence Logistics. By watching this advertisement, the viewer absolves Spacer's Choice of any liability throughout the Universe until the end of time. This advertisement was tested on animals and found 89.5% safe for human viewing. However, it is unsafe to view this advertisement while under the influence of Adrenatime [Diathylpolyoxilate and it's derivatives.]. The slogans "It's not the best choice, it's Spacer's Choice", "Taste the freedom with Spacer's Choice", "From Spacer's Choice, of course", and "You've tried the best, now try the rest" are trademarked and owned by Universal Defense Logistics, and may not be used without a form 1165SDL-UDL and a commitment of servitude of no less than ten years. This advertisement is not to be enjoyed, discussed, or referenced on company time. Spacer's Choice is not associated with Trucker's Choice and anyone who claims otherwise will be prosecuted to the fullest extent of the law. Five Canids, two Raptidons, and a genetically unidentifiable space organism were all harmed during the making of this advertisement. This advertisement was filmed on Spacer's Choice 100% Pure acetate - if this advertisement begins to smoke please withdraw to a safe distance and continue viewing. Any endorsement of Spacer's Choice by the Halcyon Corporate Board is implied but not expressed. Warning: pregnant women, the elderly, and anyone who has eaten in the last two hours should avoid prolonged exposure to this advertisement. This advertisement should not be construed to represent any warrantee or guarantee, regardless of the actual words used or implied in the foregoing. Due to a recent court decision, Spacer's Choice is contractually obligated to state that Auntie Cleo products do not contain cyanide, Cystypig gastric juices, mercury, sprat intestines, or human body parts despite any claim made to the contrary by Spacer's Choice. Any similarity to persons living, dead, or in hibernation is purely coincidental. Spacer's Choice has made the legally required minimum effort to insure that the information contained in this advertisement is correct at the time of it's release. Nothing in this advertisement is intended as a substitute for the medical advice of physicians. And remember, Spacer's Choice pre-sliced bred tastes fresh because it was!
« Last Edit: December 07, 2018, 04:22:55 AM by Lucas »
---
" He's so impatient, it's like watching a teenager fuck a glorious older woman." - Ironwood on J.J. Abrams
---
New MGTA code, gets you a handful of cards

GAMEAWARDS

1x Cleansing Nova
1x Ghalta, Primal Hunger
1x Risk Factor
1x Search for Azcanta
1x Vraska's Contempt

4x Conclave Tribunal
4x The Eldest Reborn
4x Lava Coil
4x Merfolk Branchwater
4x Sinister Sabotage