| | |
| --- | --- |
| | 0 Members and 1 Guest are viewing this topic. |
| | |
| --- | --- |
| Pages: 1 ... 6 7 [8] | |
| | |
| --- | --- |
| Author | Topic: Failgate London or "Why You Don't Outsource Important Services." (Read 154753 times) |
---
I don't get how Schild is supposed to be an idiot, here. The $150 gave open-ended access to a product that he could review for this here games website and all of that.

This presumes that Schild did buy the game for the purpose of Serious Game Journalism and not because he wanted to do something like, say, have fun playing it, or anything. If Schild has written a review of Hellgate: London somewhere, I haven't seen it, and I'm not sure how paying $150 for a lifetime subscription would be a better option than paying the what, $20 or $30 it would cost for the two months you might reasonably be able to justify delaying the review?
And yes, he got his money back, but I don't see that as being particularly relevant. It all turned out okay, but it could have easily gone the other way, and I'm not seeing this as some kind of master tactical scheme which Schild cunningly planned out all in advance in order to save the cost of one month's subscription.
Why are we necroing this, anyway?
---
Serious games journalism is finding fun.

What? Were you hoping for something noble at the bottom of this industry's barrel? All you'll find down there is a book on Modern MMOG design and a $15 monthly recurring fee.
---
Hi Eric,

Your subscription has been canceled and a refund of $149.99 has been issued to your credit card.

Sorry for the delay in responding to your request.

Marti
I don't see any grammatical errors.
Edited for subtlety.

wow, grats schild. here's one for ya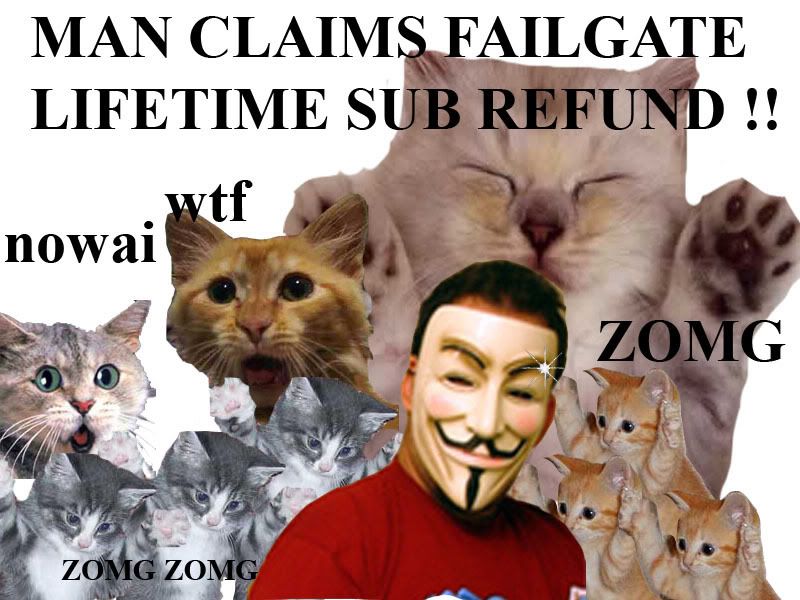 ---
Colonel Sanders is back in my wallet
---
The twinkle over my left eye is cracking me up. Makes me want to wear the mask to work.
---
Jesus. This thread got necro'ed for no fucking good reason, didn't it?





You don't consider ass kissing to be a good reason?
---
Plant yourself like a tree
Haven't you noticed? We've been sharing our culture with you all morning.
The sun will shine on us again, brother
---
Jesus. This thread got necro'ed for no fucking good reason, didn't it?
I'm quite confused as to how it happened myself, even though I'm the totally guilty party.
I'm not usually in the business of necro. I guess I just didn't look at the dates, or thought the conversation was still active, or ... I just don't know!
---
Presumably it's because you were working on your Hellgate review and looked around to see what other people had said about the game.

---
i was following this thread for a few weeks, kinda laughing a bit at schild's attempt at recovering his money from lifetime subs.
'you deserve it sucka' was my thought, but when he got the refund i had to eat my words. What can I say? I'm not sure if others will follow his example as well and try to recover their dollars from a supposedly life-time subs.

Sorry for the necro, I haven't followed the thread for a while and decided to click on it, and saw he did the least possible (i woudn't call it impossible, just a super-long-shot)
---
Colonel Sanders is back in my wallet
---
Sorry to re-awaken this old thread, however I do have one suggestion which may help in the future. It's called your Statutory Rights, which are laws that give you rights as a consumer to ensure that you can't be screwed over.
The following link shows your legal rights (in the UK at least) when buying goods, whatever they may be:
http://www.tradingstandards.gov.uk/cgi-bin/calitem.cgi?file=ADV0043-1011.txt
Basically, if you pay for a product which isn't of satisfactory quality or doesn't work as described (however you must be able to prove this), then you are entitled, by law, to a full refund or replacement of the product in question. In the case of a PC game, a refund is the only real option.
I don't know if you guys in the US or other countries have similar laws, but it's worth looking into for future reference.
I hope this was useful.
Rob. :)
---
| | |
| --- | --- |
| Pages: 1 ... 6 7 [8] | |