In times where I couldn't find a decent RPG to play, Drakensang suddenly popped out of nowhere bearing the tag of '"best German RPG 2008" award. I wasn't sure what to think of it at first, but the demo gave me a good feel of the character customization and somewhat induced me to get it. So I did.
The first one hour was spent on deciding what character to make. With so many options from a Charlatan (A college dropout wizard) and a Pirate (the muscular kind, not Johnny Depp), there's so many decisions to be made even before you actually take your first step into the game (Tip: Click on expert mode on char creation.) This is really where the game really impressed me. Experience gained can be spent on skills and stats upgrade, as well as purchasing special abilities.
The next hour was spent wondering how the hell the testers could stand the snail pace of running before quitting in disgust after smashing barrels instead of opening them in plain view of the townspeople.

I calmed down a bit and found a nice editor courtesy of this f13 thread to speed up the run and make it more enjoyable. And so I played. I harvested herbs to make potions. Skin animals for pelts to sell. It really felt like a single player MMO experience, with more quest narration and somewhat 'limited area' to explore. That's the downside of Drakensang actualy, the developers seem to be afraid of giving too much freedom. Finishing the first area, I was prompted with 'You can't return to this area once you leave, OK?'

But why? That's not good at all.
Combat was well paced, unlike Neverwinter Nights 2 which hardly give an indication when a round started and a round finished, I never had a problem telling whether my wizard finish casting a spell or was knocked down or not by glancing at his portrait. I never had the message log maximised, I did this only to check bosses immunities which frees up the screen for the nice graphics. This is a great feature that should be adopted for most RPG trying to do RT combat with pause. Most games that employ RTwP had weaksauce combat (see KOTOR , NWN) Combat was a mess, without structure and either too easy or too damn hard with AI being retarded. I'm not saying Drakensang's combat AI is engaging, but I'm getting MMORPG vibes from it. Very much. Fighters spend Endurance to do special moves, while wizards spend Astral Points. Once you've done some boss fight you can't help but wonder if you're in a real MMO raid or something when your whole party of 4 raised their sword in unison and did a /cheer over the dead boss' corpse.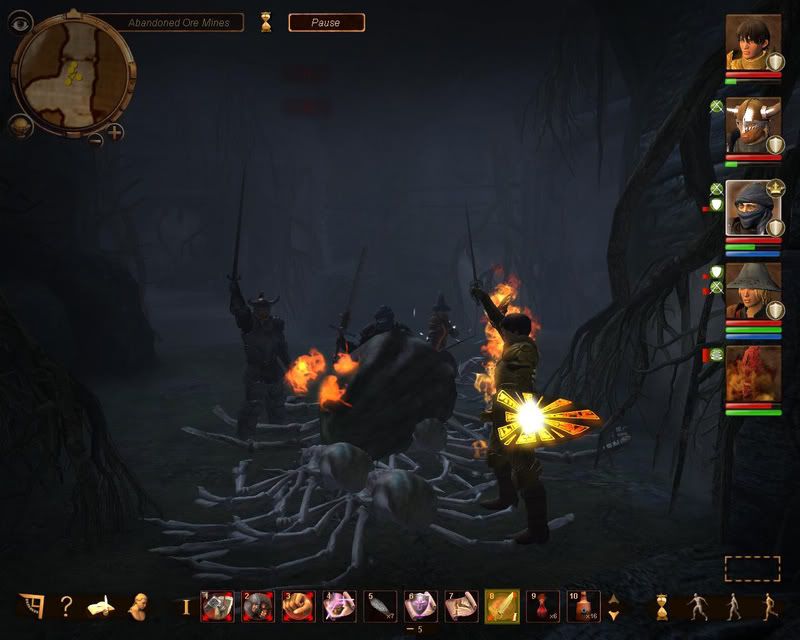 The writing quality could've been done better, as well as the voices. They did the voices much like the classic Baldur's Gate 1, important NPCs usually only has 1-2 spoken dialogues while the huge paragraphs are not spoken. This is a good compromise, unlike games who insist on fully voiced dialogues at the cost of short sentences. (Oblivion, I'm looking at you) Voice acting quality aside, it's a translated product from germany, so I'm willing to give it a pass.
What really surprises me is the amount of content packed in this game. It started off in the wrong foot with slow run speed and lackluster setting (kill bear, come back), but gradually became something much bigger. And companions are not as deep as I would've liked, but they gave you 10 npc to form your 4some so party build and customizations are part of the fun. If you're willing to look past the un-inspired 'You are Chosen One' writing, you will find lots and lots of content to play through. It's really old school gameplay with a great modern makeover with ZERO stability issues (I've not crashed a
single
time).
Is it fun? Yes. I can't wait for a sequel. I don't miss MMORPG at all with Drakensang around and definitely not caring about Dragon Age at this point because
Hamburg/Germany, February 17th, 2009 – Hamburg/Germany based publisher dtp entertainment has today confirmed that developer Radon Labs is working on a prequel to the award winning title: The Dark Eye: Drakensang, which has won the "best German RPG 2008" award at the German Developer Awards. Drakensang: The River Of Time is going to tell a new story within the Drakensang universe. The prequel is scheduled to be released on the PC early 2010.
I've had my fun.

Will you?
As you can see the paperdoll dress up aspect is great too with so many clothing slots to fill up, sometimes I go for looks and sacrifice armor.