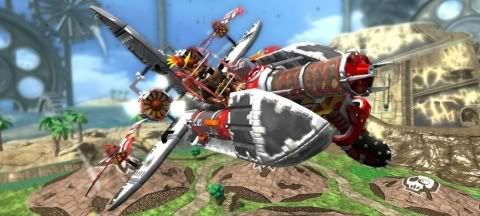 Goofy, silly fun. The dialog is funny, especially if you are somewhat familiar with games and the previous Banjo games in particular, and most especially if you love nut jokes. The plot isn't important, and in fact the platforming isn't really important. Sure, you run around collecting shit, which I do appreciate, but the meat of the game is building vehicles. My son complained that I spend more time building vehicles than playing the game, which is very true. I could point out that he spends most of his time flying around in a crap airplane I built than play, too, but I don't.
I'm not going to bother even mentioning the plot because it is stupid. Not in an annoying way, just that it's something I don't care about. The important bits are that you enter various worlds and complete various challenges within, earning various McGuffins to open up other worlds. While you certainly can get out of your vehicle and run around smacking things with a wrench, most of the time you will be driving (or flying) a shitty contraption to complete challenges. For those of you who don't want to bother building vehicles (protip: avoid this game) you can buy blueprints in the hub town and simply load up the one you feel would be most appropriate for the current task. That is silly when you can build what you need in just a few minutes and save your own blueprint... which it seems you can trade with the other guy (me) who owns this game.
I am actually impressed with the vehicles. Adding spoilers to my five-engines-on-wheels race car really helped the stability... although I really should have only used maybe two engines. Ramming enemies with spikes on your car -- or in my case, pyramid on wheels -- works as expected. Building an airplane is as easy as slapping a propeller and two wings on an engine. I even took a few seconds to add a pair of wheels, for great justice and less scraping on the ground. Balloons provide flight without using fuel, but they suck in the ways you might imagine. Build a helicopter by pointing the propeller up, but at least try to center it. If you aren't sure your monstrosity will work, there is a convenient test track that more resembles a large and dangerous skate park.
I am having fun in this game mostly because building and tweaking a vehicle to complete challenges such as races, sumo, ram-the-jinjo, score-soccer-goals and defend-the-dumbass really adds a lot to tired old gameplay. Also, there are a lot of things to find and collect, and I really like that. And nut jokes.
-
Demo or Rent if you're not sure.